Model : HME-LAMP
1. Summary
There are many RF reduction causes in tunnels. HME-LAMP boosts up the RF signals which weaken in the tunnel and RCX, LCX cables. It provides seamless communication service between a base station and a mobile station (an engineer). It has a built-in Automatic By-Pass function to minimize all kinds of risks in the emergency situations. It amplifies various frequencies from FM band to TRS band to provide a composite Line Repeater Solution.
2. Features & Functions
-

Amplification for each RF signal such as FM Radio (88~108MHz), VHF Station communication (146~174MHz), Fire Communication /Train Protection (440~470MHz), Ground-wave DMB(174~214MHz), TRS(800~900MHz)

-

Appropriate Solution for train environment which has various types of communication, offering compatibility for Digital TRS Repeater & other repeaters

-

Applying for NMS, and Observing & control function at the end of the RCX cable by interlocking with LD

-

Built-in Automatic By-PASS function
3. Appearance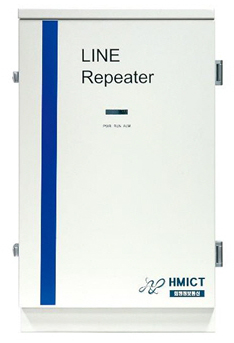 4. Standard
Parameter
Standard
Frequency
FM Radio
88 ~ 108 MHz
Station Communication (VHF)
146 ~ 174 MHz
Ground-Wave DMB
174 ~ 214 MHz(option)
Fire Communication/Train Protection
440 ~ 470 MHz
TRS
800 ~ 900 MHz(option)
Gain
FWD
REV
FM Radio
30dB
-
Station Communication (VHF)
30dB
30dB
Ground-Wave DMB
-
-
Fire Communication/Train Protection
30dBn
-
TRS
-
-
Pass Band Ripple
30dB p-p
V.S.W.R
1:1.5
*The above values of the parameters can be subject to change for the purpose of device improvement.