Model : HMVR-150-20
1. Summary
A tunnel repeater guarantees to be stable for seamless voice call between tunnels and trains. HMVR-150- 20 is installed at the entrance of the tunnel to repeat broadcast signals from the base station to the tunnel & the radio shadow areas. It adopts an optical transmission method to minimize loss generated from the line. A Built-in Automatic-switchover Dualized RF Amplifier provides stable voice quality in the tunnel.
2. Features & Functions
-

Easy handling by the built-in modular typed transceiver

-

Built-in TEST UNIT is able to make a test call between service areas

-

CASCADE connection method ensures high reliability

-

Optical connection with MU makes minimizes transmission loss

-

Providing Auto-disconnecting function with built-in dualized amplifier

-

Consisting of main & sub Power supply
3. Appearance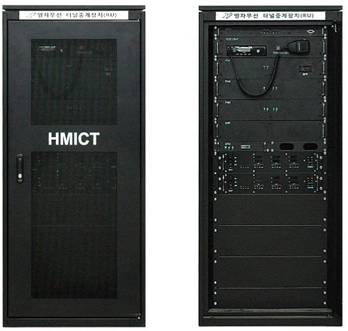 4. Standard
Parameter
Standard
RF Amplifier
High Frequency Output: 15W(Max 20%, Min 50%)
Output Impedance: 50Ω
Spurious Suppression: Less than -60dBc (a carrier wave)
Transmitter
Modulation way: 16K0F3E(Wideband), 8K5F3E(Narrowband)
FM Noise Control: Less than -40dB (with 1kHz, 70% Modulation)
Frequency Stability: ±0.0005%
Modulated Frequency Feature: 6dB/OCT±3dB Pre-Emphasis(0.3~3KHz)
Low Frequency Distortion Rate: Less than 5% (with 1kHz, 70% Modulation)
Maximum Frequency Deviation: ±5kHz(Wideband), ±2.5kHz(Narrowband)
Receiver
Bandage: with -6dB 12.5kHz or higher(Wideband), with -6dB 8kHz or higher(Narrowband)
Adjacent Channel Selectivity: with -70dB Less than 25kHz (Wideband), with -60dB Less than 12.5kHz (Narrowband)
Receiving Sensitivity: Less than 0.5㎶ (with 20dB Noise Suppression)
Squelch Sensitivity: Less than 0.25㎶
Low Frequency Output: 0dBm±3dB
SINAD : 40dB or higher(1KHz 70%)
Low Frequency Distortion Rate: Less than 5%(1kHz, 70%)
Optical Transmitter
Wavelength : M;1300~1320nm, S;1540~1560nm
Optical Output: 3dBo(±30%)
Band With : 100㎒~200㎒
RF Link Gain : 0dBm±1dB
Optic Connecter : SC/APC
Controller
Low Frequency Output: 1W or higher(4Ω, 10% Distortion)
SINAD: 40dB or higher
Low Frequency Distortion Rate: Less than 5% (1kHz, 70%)
Power
Input Voltage: AC 220V±10%60㎐
Output Voltage: DC 13.8V±10%(Flexible)
Output Current Capacity: 20A or higher
*The above values of the parameters can be subject to change for the purpose of device improvement.